About This Fundraiser
No description has been entered for this fundraiser.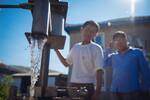 Clean abundant water transforms health and daily living. CFK has installed solar/gravity water distribution systems at 18 different locations thus far. Working through our partners, Wellspring for Life and local counterparts, wells are drilled and handpumps are installed at CFK's supported facilites. Later, CFK teams return to install water tanks, solar panels, and a gravity-fed piping system that brings lasting change. Materials for water distribution systems cost around $18,000. Until permanent systems can be installed, individual water filters will provide years of clean, safe drinking water.
풍부한 양의 깨끗한 물은 북한 주민들의 건강과 생활의 질을 개선합니다 CFK는 지금까지 각기 다른 18개 지역에 태양열/중력 급수 시설을 설치해왔으며, 2018년에는 최소 3개 이상의 추가 지역에 이 시설을 보급할 계획입니다. 현재 저희는 파트너 단체인 Wellspring of Life 와 그들의 지역 협력자들을 통해 일하고 있는데, 주로 CFK가 후원하는 시설들에 우물을 굴착하고, 수동 양수기를 설치하는 일을 합니다. 그 후, CFK 팀원들은 그곳에 돌아가 시설에 지속적인 변화를 줄 수 있는 물탱크, 태양 전지판, 중력 가동 급수 시설을 설치합니다. 대부분의 배수 시스템들은 설치하는 데에는 약 $18,000의 비용이 듭니다. 각 시설에 영구적인 시스템이 설치되기 전까지는, 개별 식수 여과장치들이 여러 해 동안 깨끗하고 안전한 식수를 공급할 것입니다.