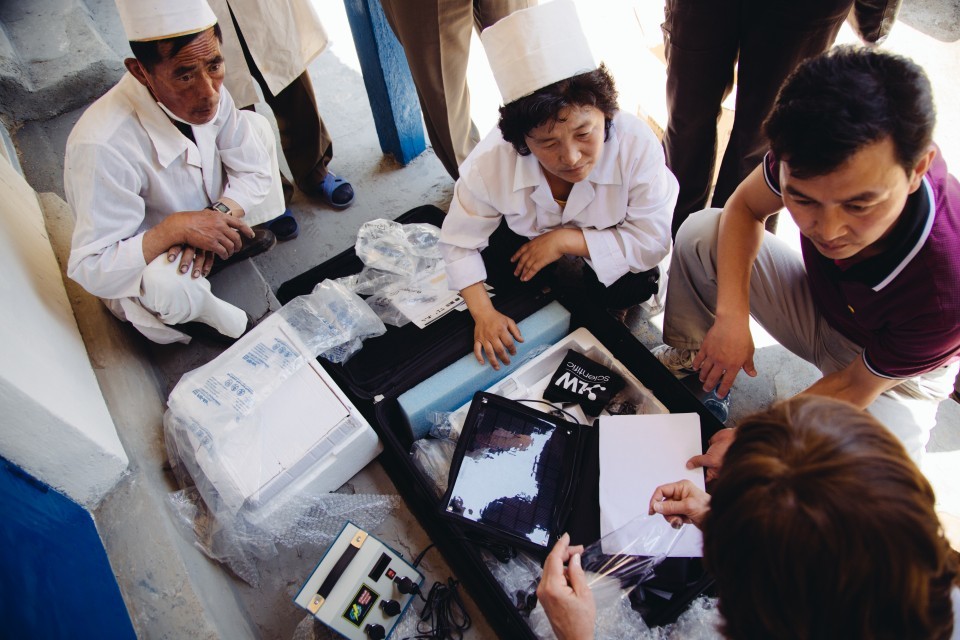 $285 raised
1% of $40,000 goal
North Korea
Christian Friends of Korea
Medical/Lab Training
Donations to this project are tax-deductible
About This Project
Located on the ground of the Central TB Prevention Hospital in Pyongyang is the Training Center. During its opening in May 2014, a workshop was held by primary care physicians and laboratory specialists from Global Care Partners and Stanford University (US experts on the front lines of diagnosing and treating TB patients).
Lectures were presented on current laboratory diagnostic capability, use and application, and drug therapy side effects and patient management. The Ministry of Public Health (MOPH) has invited us to organize more training events led by international specialists. Support will help with the medical experts' travel, training supplies, and establish a medical library.

2014년 5월, 새로운 의료 교육 센터가 중앙 평양 결핵 예방 병원 1층에 오픈하게 되었습니다. 북한의 의료 교육센터의 개원식을 하는 동안, 글로벌 케어 파트너(Global Care Partner)와 스탠포드 의대의 내과 1차 진료 의료진들과 임상진단 전문가들에 의해 워크샵이 진행되었습니다 (결핵 환자의 진단과 치료 부문 미국 최우수 전문가들).
강의는 현재의 임상 진단 기술과 사용, 적용에 관하여 뿐 아니라 약물 치료 및 그 부작용, 그리고 환자 관리에 대하여 진행되었습니다. 북한의 보건복지부에서는 저희를 초대하여 국제적 전문가들에 의한 더 많은 의료 교육을 개최해 줄 것을 요청했습니다. 메인 교육실에 근접한 두 개의 작은 방들은 실제훈련을 제공하는 데에 사용 될 것이며, 의학 도서관도 설립될 것 입니다. 의료 교육 계획을 위해 모금되는 후원금을 통해 CFK는 의료진의 여행 경비와, 교육 자재 비용, 그리고 의학 도서관 건립 비용을 제공할 수 있습니다.
Project Owner
Christian Friends of Korea
Christian Friends of Korea (CFK) provides ongoing support to more than 30 care centers, including the National Tuberculosis Reference Laboratory (NRL), 7 provincial TB and hepatitis hospitals, and nearly 18 TB and hepatitis rest homes throughout this region.
We are incorporated in the State of North Carolina and registered as a tax-exempt 501(c)3 non-profit. We are also members of the Evangelical Council for Financial Accountability (ECFA) and Technical Exchange for Christian Healthcare (TECH).
Website

http://cfk.org

Address

129 Center Avenue
PO Box 936
Black Mountain, North Carolina 28711

Phone

1-828-669-2355

Email

tsmith@cfk.org