About This Fundraiser
No description has been entered for this fundraiser.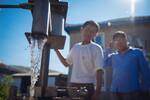 Clean abundant water brings healing to patients, families & communities!
One Water Filter & Bucket: $40
Drill One Water Well: $4,000
Solar/Gravity Water System: $20,000

풍부한 양의 깨끗한 물은 북한 주민들의 건강과 생활의 질을 개선합니다 CFK는 지금까지 각기 다른 18개 지역에 태양열/중력 급수 시설을 설치해왔으며, 2018년에는 최소 3개 이상의 추가 지역에 이 시설을 보급할 계획입니다. 현재 저희는 파트너 단체인 Wellspring of Life 와 그들의 지역 협력자들을 통해 일하고 있는데, 주로 CFK가 후원하는 시설들에 우물을 굴착하고, 수동 양수기를 설치하는 일을 합니다. 그 후, CFK 팀원들은 그곳에 돌아가 시설에 지속적인 변화를 줄 수 있는 물탱크, 태양 전지판, 중력 가동 급수 시설을 설치합니다. 대부분의 배수 시스템들은 설치하는 데에는 약 $18,000의 비용이 듭니다. 각 시설에 영구적인 시스템이 설치되기 전까지는, 개별 식수 여과장치들이 여러 해 동안 깨끗하고 안전한 식수를 공급할 것입니다.